As Somen production continued to expand, a full-fledged trade association was required to maintain the credit and tradition of the area. Throughout its history, this association has been devoted to upholding the reputation of Banshu Somen.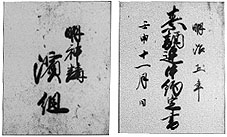 Getting started to form a manufacturers' organization
In the absence of patronage from the Tatsuno clan following the Meiji Restoration in 1867, a group of Somen manufacturers established the Myojinko trade association in 1872. This was when the specifications of a Somen trade association began come into existence: setting artisans' wages, standardizing the level of quality, etc."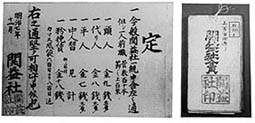 In keeping with the industrial promotion campaign of Hyogo Prefectural Government, Somen manufacturers from both Issai-gun and Itto-gun united in 1874 to establish the Kaieki-sha, with a view towards strengthening the organization and manufacturing better products. The Somen Rulebook which they then compiled lists 127 manufacturers, showing that the area had became a major producer of Somen.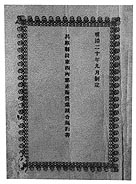 The first step towards 110 years of history
After the Hyogo Prefectural Government announced regulations on trade associations in 1884, members of the Kaieki-sha began groundwork for the establishment of one in accordance with these regulations. With 229 persons signing a memorandum, an application for the establishment was then filed, to which permission was granted by the Mayor on September 9, 1887. This marked the birth of the Somen Trade Association, Itto-gun and Issai-gun, Harima, the direct predecessor of the present association."
How Somen was manufactured in the 1800s
Pre-kneading

Smoothing

Drying

Bundling