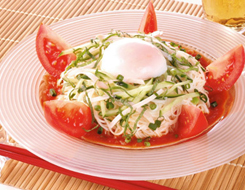 Tomato Somen
Salad-style Somen with fresh ripe tomatoes.
How to cook

Combine the tomato sauce with the mentsuyu and refrigerate until ready to use.
Cut the tomatoes into wedges. Chop the cucumber, ham, and perilla leaves into a julienne. Thinly slice the green onion.
Boil the Somen and rinse under running water by rubbing with hands and drain thoroughly.
Pour 3-4 tablespoons of the sauce (made in Step 1) into each dish, place the Somen on top and then pour on the remaining sauce. Arrange the vegetables and ham (Step 2) and top with onsen-tamago."
Ingredients / for 4 servings

6 bundles of Ibonoito Somen
1 can (295g) tomato sauce* (store-bought)
3/4 cup mentsuyu (soy-based dipping soup for noodles),
"straight type" (no need to dilute)
2 tomatoes
1 cucumber
4 slices of ham
6 perilla leaves (green shiso)
4 green onions
4 "onsen-tamago" (soft boiled, a kind of poached egg)
*Tomato sauce is often used to dress pasta,
cooked by simmering tomatoes and flavoring ingredients and seasoning.