Boiling Process

Serving Ideas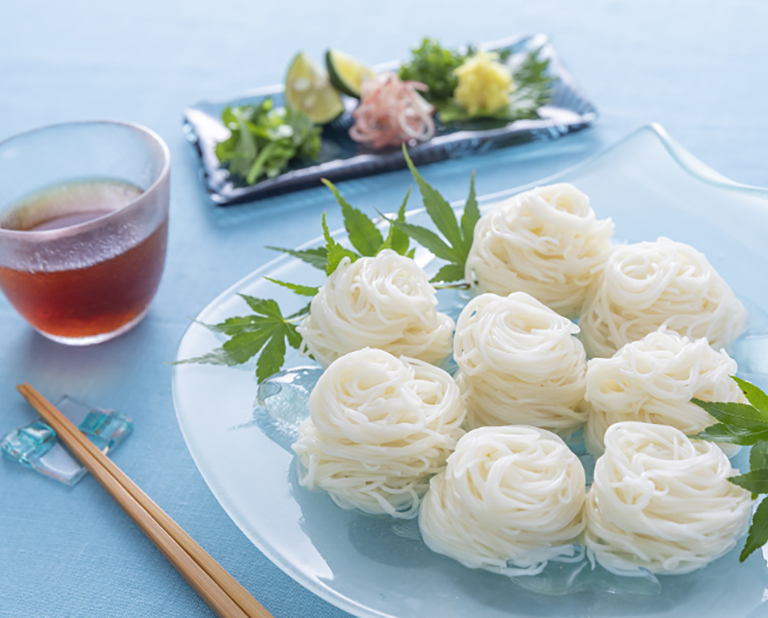 Healthy and delicious. Just sprinkle in your ideas and Somen can be a real treat! Add some fruits and vegetables of the season, mix with seafood and seaweed with appetizing sesame sauce, or cook it like Italian spaghetti for a voluminous dish. Matches perfectly with a spicy hot tomato sauce, or with your children's favorite curry flavor!
Served hot with toppings and garnishes of your choice – Somen can be cooked in any flavor that you desire. What will be on your menu today?
Boiling – the Most Important Process
Use a generous amount of boiling water

Place three bundles of Somen into a large pot filled with 8 cups of boiling water, and then quickly stir with chopsticks.

※Boiling the noodles in soft water results in the best flavor.

Cook over high heat until it reaches a boil again

When the water reaches a boil, adjust the heat to a simmer. Somen is ready when it becomes semi-translucent (approx.1 1/2 to 2min.).

Wash well by hand

Allow the boiled somen to cool in a draining basket with running water and then wash well by rubbing the noodles. Drain thoroughly.
Five Reasons for Using Hand-Stretched Somen
Thinness

Thin Somen goes perfectly with dipping sauce.

Body

Firmness is maintained when boiled – Ideal for simmered or stir-fried foods.

Goes down smoothly

Going down smooth, Somen is perfect for all occasions.

Luster

The sight of white, lustrous Somen stimulates your appetite.

Flavorful

Hand-stretched Somen is tasty down to the last bite.