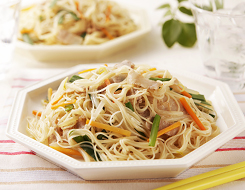 How to cook

Chop the pork into 1cm or so pieces. slice the carrot into thin strips. Briefly rinse bean sprouts with water and put them in a strainer to drain. Cut Chinese leeks about 3cm in length.
Boil the somen for slightly less than the time shown on the package. Put them in a strainer and wash well with water.
Put cooking oil in a frying pan and roast pork over medium heat until it has a good aroma. then add the carrots and bean sprouts and increase to strong heat.
When the carrots are well heated, add the Chiense leeks and the above sake and soy sauce mixture (A) and fry a little more. Add boiled somen noodles (2) and fry briefly. then finally add sesame oil.
Ingredients / for 1 person

100grams of somen noodles
80 grams of pork back ribs
20 grams of carrot
50 grams of bean sprouts (moyashi)
several lengths of Chinese leeks (nira)
1 teaspoon of sesame oil (goma-abura)

(A)

2 tablespoons of sake
1 tablespoons of soy sauce
1/4 teaspoon of salt
a pinch of pepper