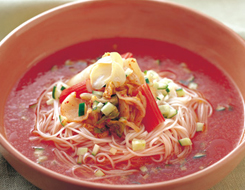 Gazpacho-style Kimchi Somen
A cool and refreshing sauce for the summer. Spicy kimchi will increase your appetite! If you don't feel like eating lunch in the hot summer, this cool and piquant Somen recipe is perfect for you!
How to cook

Mix the (A) ingredients well and then cool in the refrigerator.
Boil the Somen until al dente. Transfer into cold water and rinse well by rubbing with hands. Drain well.
Pour sauce (A) into a bowl and pile the Somen in the center. Arrange the chopped kimchi and kanikama (cut into bite-size pieces). Garnish with chopped cucumber and garlic chips.
Ingredients / for 4 servings

4 bundles of Ibonoito Somen
160g kimchi
4 kanikamas (steamed fish paste, crab meat-flavored)
1 cucumber
Garlic chips

(A)

2 cans tomato juice
1 can vegetable juice
Lemon juice
6 tablespoons olive oil
1 teaspoon salt
Pepper