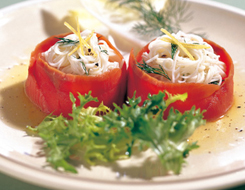 Dill-flavored Salmon Somen
A hors d'oeuvre with dill, an invigorating herb with a refreshing flavor. Use plenty of dill, which goes well with smoked salmon. A western-style Somen with the flavor and scent of dill brought out with extra virgin oil and the refreshing scent of lemon.
How to cook

Cut the chicory in half lengthwise. Tear the endive leaves into bite-size pieces.
Mix the dressing ingredients.
Boil the Somen and place it into a strainer. Transfer into cold water and rinse by rubbing with hands. Cool in iced water and drain.
Place the Somen (cooked in Step 3) in a bowl; add half of the dressing (Step 2) and toss to mix.
Divide the Somen into 8 portions. Pile 2 portions in the center of a dish and roll 2 salmon slices around each bundle of Somen. Garnish with the lemon peel (chopped into thin strips), the chicory, endive (Step 1), and dill. Pour the remaining dressing on top.
Ingredients / for 4 servings

4 bundles of Ibonoito Somen
8 chicory leaves
6 endive leaves (or lettuce)
2 sprigs of dill leaves
16 slices of smoked salmon
Lemon peel

(Dressing)

2 tablespoons lemon juice
1/4 teaspoon salt
Pepper
4 tablespoons olive oil (extra virgin)
Dill to garnish