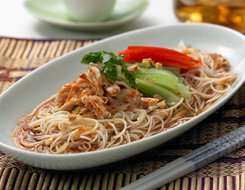 Chinese Style Somen with Spicy Chicken Breast
It's Chinese and very piquant! Able to be cooked in 15 minutes.
How to cook

Finely chop the white leek and transfer into a bowl. Add the soup ingredients, stir together, and refrigerate until ready to use.
Place the chicken in an ovenware dish. Add the sake, wrap in plastic and heat in a microwave oven (500w) for 1 minute. Allow it to cool until able to be handled and tear into narrow strips.
Mix 2 tablespoons of the soup (made in Step 1) and 1 teaspoon of the toban djan. Dress the chicken (Step 2) with this soup.
Boil the bok choy, cut the length into quarters and chop thinly. Cut the red bell pepper into thin strips.
Boil the Somen. Rinse under running water while rubbing with hands and drain. Just before eating, transfer into iced-water, then into a strainer, and then drain well. Arrange in a bowl.
Place the chicken (Step 3) and the vegetables (Step 4) onto the Somen. Sprinkle with coarsely chopped peanuts. Pour the cooled soup (Step 1) (overtop) and garnish with chervil.
Ingredients / for 4 servings

4 bundles of Ibonoito Somen
2 pieces of chicken breast meat
2 tablespoons sake
1 teaspoon toban djan (chili bean sauce) for the chicken
8 bok choy leaves
1/2 red bell pepper
4 peanuts
Chervil to garnish

(Soup (kaketsuyu))

8 tablespoons mentsuyu (soy sauce-based soup for noodles), "straight type" (with no need to dilute)
1 teaspoon toban djan (chili bean sauce)
1/2 teaspoon wort
8cm white leek (shironegi)